Can it be Halloween all year?
September 23, 2020 • Terrence Horan • Illustrator & Co-Founder of Spooky Cat Press
---
For me, as a kid, it was always Halloween. Don't get me wrong, Christmas was up there too. But Halloween was my favorite. Not just the holiday itself, but the entire season. I loved everything about it, starting from the change in the air, hinting at the crisp fall weather, leaves changing colors and that distant smell of burning leaves. There were also fun fall crafts we did in school. All this leading up to Halloween night - dressing up and wandering the neighborhood after dark getting free candy? Pure bliss.
My love for Halloween has not gone away as an adult. I love it just as much, and Halloween season starts earlier every year in our house. About ten years ago, I was doodling in a meeting at work. It was right after Halloween when I was lamenting that it was over. I ended up drawing these three little trick or treaters and liked the way they turned out.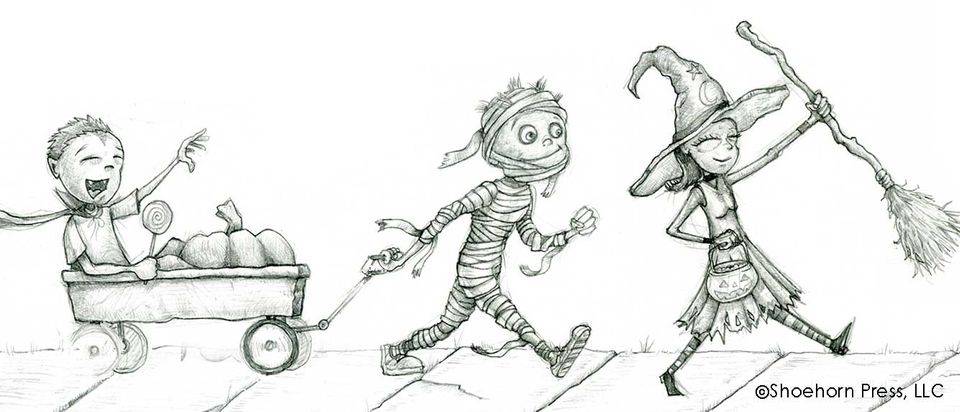 I continued to work on them over time and eventually decided to make them into a Halloween card. This Halloween card turned into a yearly tradition for our friends and family. Over the years, the list of people asking for the Halloween cards grew. It was something I spent a lot of time working on to capture that distinct feeling. It was something that resonated with many people, the memories of being a kid and Halloween nostalgia. I hope people enjoy them as much as I do drawing them.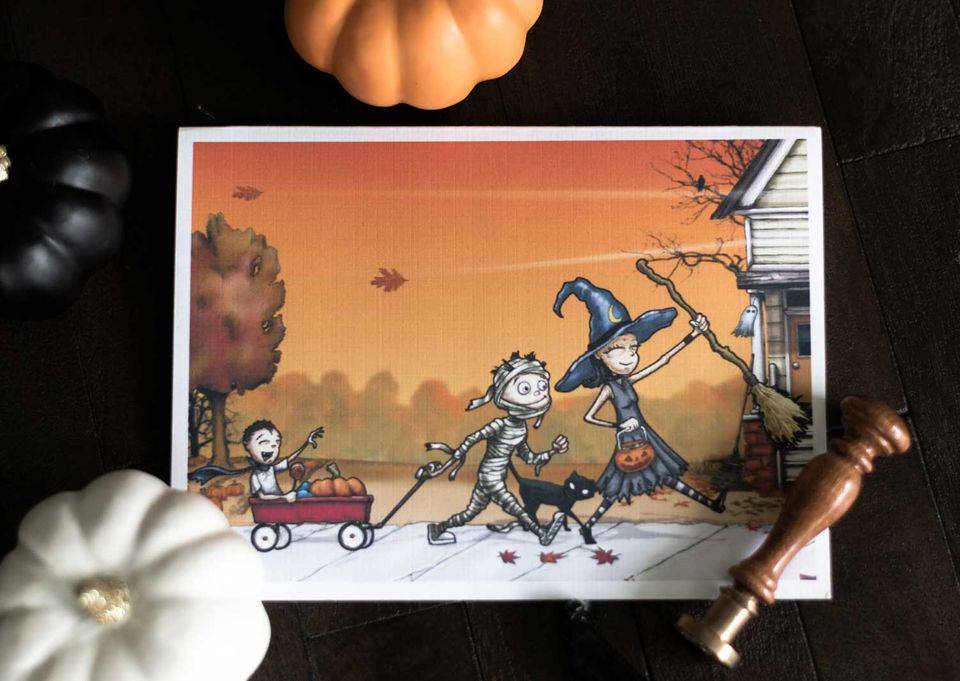 This is the Halloween card that started Spooky Cat Press.
Every year since, I've created a new Halloween card that captures a moment in Halloween time - heading out to the pumpkin patch to pick the perfect pumpkin, sneaking passed an old haunted house, running through a graveyard, and most recently, a family trick or tricking together. I named this collection Spooky Town, and I must admit to living here in my head for my entire life. Because in Spooky Town, it's Halloween all year. Thankfully I am married to another designer/illustrator who is also a lifelong Halloween fanatic. Our kids are growing up Halloween lovers...they are spooky kids, without a doubt.
---
We needed more spookiness in our life and regularly attended horror conventions like Monsterpalooza and Spooky Empire. We loved the community and the gathering of talented artists.
Fast forward to the present day, years in the making, we are thrilled to launch Spooky Cat Press! The original plan was to launch at Spooky Empire, but because the horror cons have been canceled due to the pandemic, we're pivoting to an online kick-off. With this venture, we bring our love for all things goth and spooky into greeting cards, t-shirts, and have many more ideas in the making. Halloween can be all year, and we can bring spookiness into every holiday and every occasion. We can't wait to roll out all the cool themes we have planned - Christmas Zombies, Surfing Monsters, Gothic Love & Valentines, Haunted Mermaids...and more. We are living spooky, friends.
People ignore the strange and unusual. I, myself, am strange and unusual.
Lydia Deetz, Beetlejuice
Live spooky, give spooky, be spooky.
From your friends @spookycatpress